New FLDC Publication: UNP & Univ. Of Utah School Community Councils Comic Sample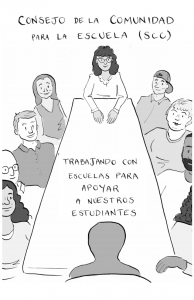 FLDC partners University Neighborhood Partners (UNP) and University of Utah share a few sample pages of the comic that was developed last year with a group of parents in their design circle. These design circles brought together Latino/a parents, community members, and school leaders to work collaboratively on re-imagining an existing platform for families to take part in school resource allocation decisions, the School Community Councils (SCC) in Salt Lake City, Utah.
UNP created a report aimed at principles, and also wanted to create something aimed at parents, so a sub-group of parents from the design circles came together to create a tool for parents to use to engage other parents in SCCs. They brought a comic artist to translate their ideas into an engaging booklet that they can use to spark conversations with other parents.
UNP is part of Phase II of the Family Leadership Design Collaborative project that will engage in deeper and more in-depth co-design processes.
Download the sample: School_Community_Councils_Comic_Sample