New FLDC Brief: Re-Imagining And Humanizing Parent-Teacher Conversations
RE-IMAGINING AND HUMANIZING PARENT-TEACHER CONVERSATIONS AND INTERACTIONS THROUGH ROLE-PLAY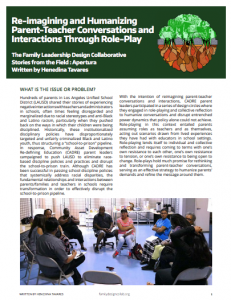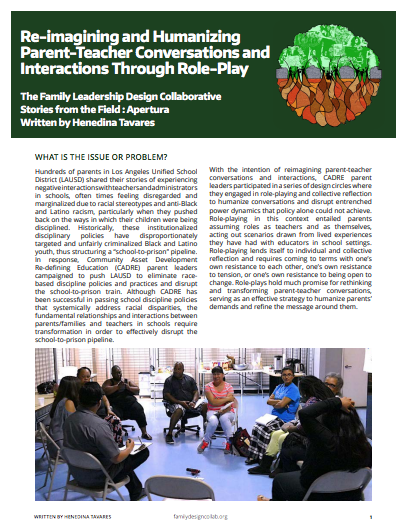 FLDC partners Community Asset Development Re-defining Education (CADRE) and University of California, Los Angeles share the role-play practice brief (PDF) that developed from their community design circles in Los Angeles, California.
CADRE parent leaders participated in a series of design circles where they engaged in role-playing and collective reflection to unpack and re-imagine powered parent-teacher relationships. By re-imagining how these parent-teacher conversations might feel and look like, CADRE sees role-playing as a step towards developing shared knowledge and capacity of parents, so they can then prepare teachers to better engage with parents and communities.
CADRE is part of Phase II of the Family Leadership Design Collaborative project and will engage in an extensive cross-site collaboration with University Neighborhood Partners, Salt Lake City, Utah.