2017 AERA Conference
Co-Designing Family and Community Wellness and Educational Justice:

 

Findings From the Family Leadership Design Collaborative
Thank you to everyone who joined us for the 2017 AERA Conference! What a wonderful symposium with our collaborative members from Chicago, IL, Detroit, MI, Salt Lake City, UT & Seattle, WA.
Missed us this year? That's okay! We have powerpoint presentations, papers, and a photos below! Please do not distribute powerpoints or any papers that are not already publicly available!
Click on the arrows <> in the slider to scroll through all the photos from the session.
Session Overview
This symposium brought together members of the Family Leadership Design Collaborative to highlights key tensions and transformative possibilities for co-designing with nondominant families and communities and informing a set of strategic opportunities for change to family engagement policy, practice, and research.
The 90-minute panel presentation consisted of 10 minutes of introduction followed by paper presentations from members of the FLDC. There was time for discussion and questions at the end.
Introduction: Framing the Work, Methodology, and the Possibility of Co-Design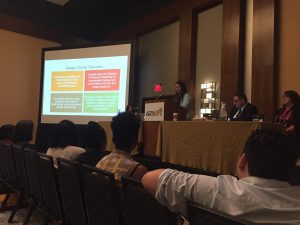 Led by Co-Project Investigator, Dr. Megan Bang, this short introduction framed the work of the FLDC and the possibility of co-design and our FLDC core principles to enact community wellbeing and educational justice.
Click here to download the powerpoint presentation
Click here to see our Core Principles (*core principles are continuously refined and may be slightly different than those in the powerpoint presentation).
---
Advancing Educational Justice Given the Benefits, Challenges and Potential of Participatory Action Research – Detroit, MI Design Team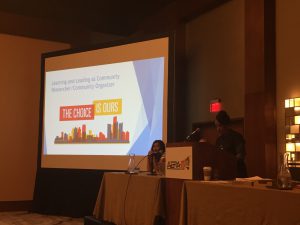 In this presentation and paper, co-designers Dawn Wilson-Clark, Dr. Camille Wilson, and Dana Nickson assessed the first year of a partnership involving university researchers and a community-based organization (CBO) that is pursuing educational justice in Detroit, Michigan.
PAR, at its best, is an educative process anchored in collaborative meaning-making that yields community change and groups' increased social efficacy (Fuentes, 2009), but it is not power neutral (Fine & Torre, 2004; Bergold & Thomas, 2012). Co-designers examined these dynamics in their past and ongoing work together.
>>Click here to download the paper
---
Inclusion of Families into School-based Race and Equity Teams – Seattle, WA Design Team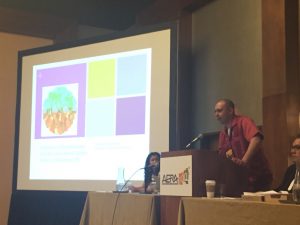 Recently, a group of teachers at a Northwest High School formally gathered as one of four of the initial district-supported Race and Equity teams (RET). The RET came to fruition as part of teacher's efforts to negotiate RET into the most recent teacher's labor contract with the district. This presentation, led by co-designer Filiberto Barajas-López specifically examined the work of the design team and the ways in which families could productively incorporate themselves in the important conversations related to race, racism, school discipline and equity.
>> Click here to download the powerpoint presentation.
---
What Does Partnership Taste Like? Reimagining Family-School Partnerships through Participatory Design Research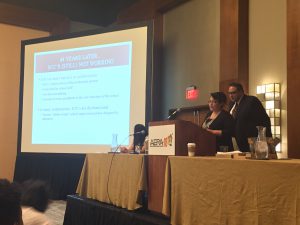 In summer of 2016, a group of educators and parents from in Salt Lake City came together with university and community-based partners to think about ways to strengthen school-community partnerships in the city's west side. This presentation, led by co-designers Almaida Yanagui and Dr. Gerardo López, focused on the principles for equitable partnerships co-designed in their process as well as the learnings and potential of co-design.
>> Click here to download the powerpoint presentation
>> Click here to download the paper
---
Bending the River: Global Indigenieties & Transformative Family Engagement in
"Informal Learning Environments" – Chicago, IL Design Team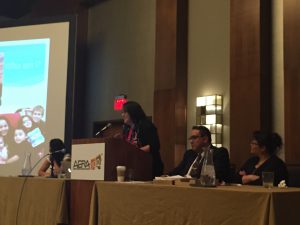 Through a series of co-design sessions, Indigenous parents and community leaders explored how they might "bend the river" – or engage intergenerational change from a historicized view without rejecting or only seeing negative histories. In particular, they sought to cultivate global Indigenous identities and building solidarities across multiple Indigenous communities. This presentation, led by Cynthia Soto, highlighted key findings from the design sessions focusing on a dynamic theme "being a good elder."
> Click here to download the powerpoint presentation
---
Moving from "This Is How It's Always Been" to "This Is How It Must Be": Lessons from Participatory Design Research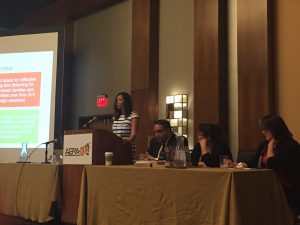 Led by co-designers Vianna Alcantara and Dr. Joanna Geller, this presentation and paper are reflections of their experiences conducting participatory design research (PDR). They share the ways in which PDR influenced themselves personally and professionally and the lessons they learned throughout the process. In particular, they frame the individual and collective lessons and possibilities of "researching with the heart."
>> Click here to download the paper
---
List of Presenters
Ann Ishimaru, University of Washington, Seattle, WA (discussant)
Megan Bang, University of Washington, Seattle, WA (chair)
Vianna Alcantara, Annenberg Institute for School Reform, Brown University, Providence, RI
Filiberto Barajas-Lopez, University of Washington, Seattle, WA
Gerardo Lopez, University of Utah, Salt Lake City, UT
Cynthia Soto, University of Illinois, Chicago, IL
Camille Wilson, University of Michigan, Detroit, MI
Dawn Wilson-Clark, 482Forward, Detroit, MI
Almaida Yanagui, University Neighborhood Partners, Salt Lake City, UT
Research Assistants
Aditi Rajendran
Charlene Montaño Nolan
Mario Guerra