Briefs & Publications
These pieces highlight innovations in processes of partnering with families and communities as well as findings from site-based work. Click on the hyperlink next to each report or brief to download a PDF copy.
Research & Practice Briefs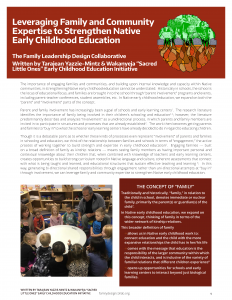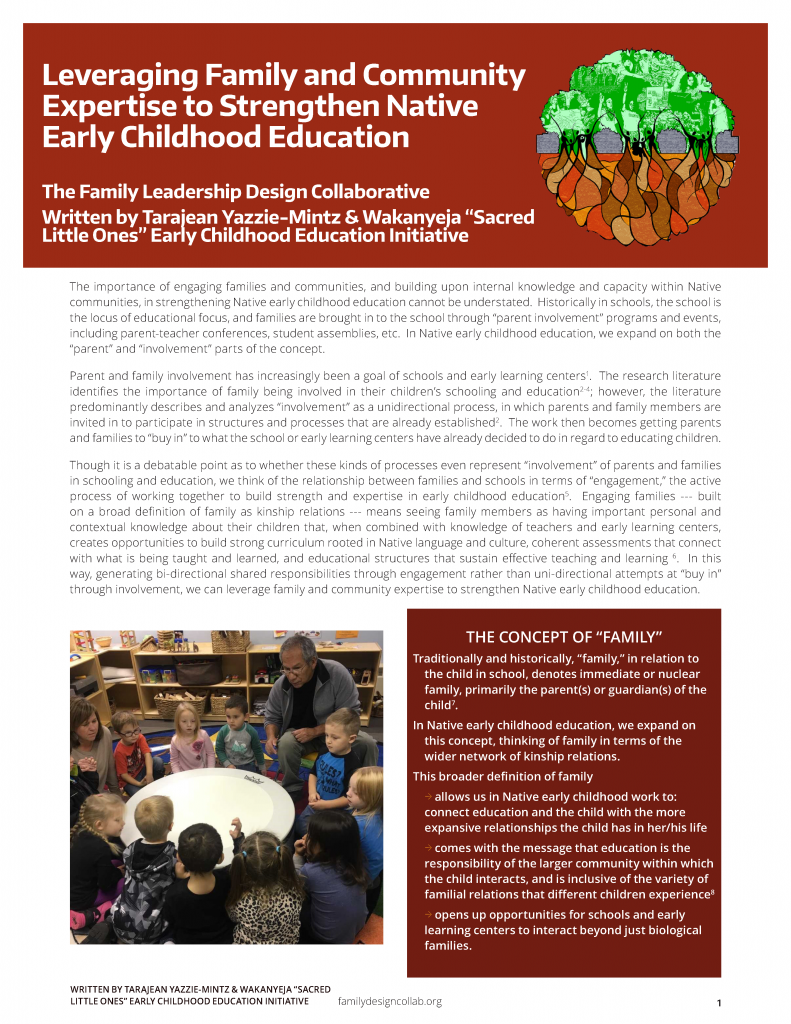 NEW: Leveraging Family and Community Expertise to Strengthen Native Early Childhood Education
This research-practice brief, written by Tarajean Yazzie-Mintz, offers key insights into family and community engagement in early childhood education practice and research.
---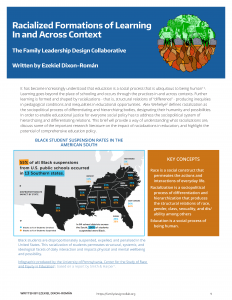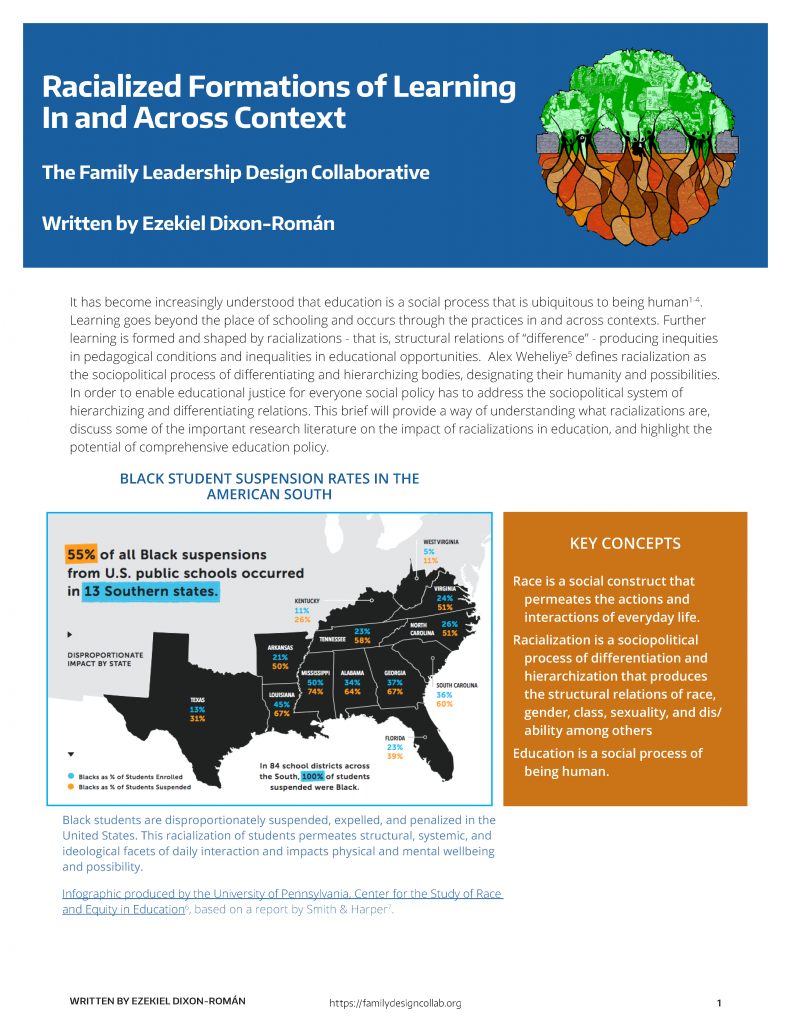 NEW: Racialized Formations of Learning In and Across Contexts
This research brief, written by Ezekiel Dixón-Roman, provides a way of understanding what racializations are, discuss some of the important research literature on the impact of racializations in education, and highlight the potential of comprehensive education policy.
---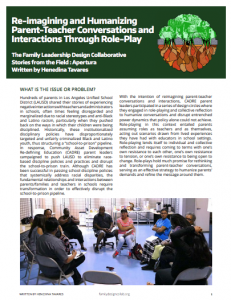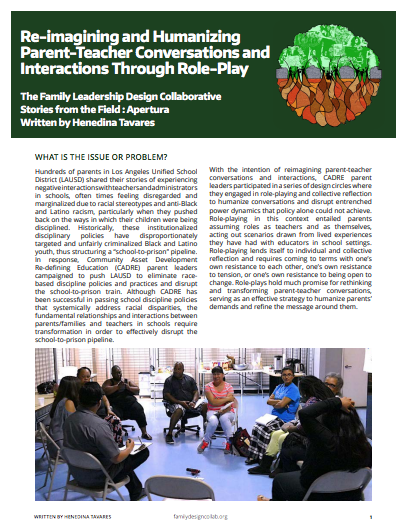 Reimagining and Humanizing Parent-Teacher Conversations and Interactions through Role-Play
This practice brief highlights how role playing was taken up as a practice by the Los Angeles design team (Maisie Chin & Lorena Guillén) for re-imagining how parent-teacher conversations could go and rehearsing the kinds of changes families wished to see in their relationships with teachers.
---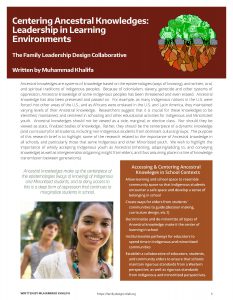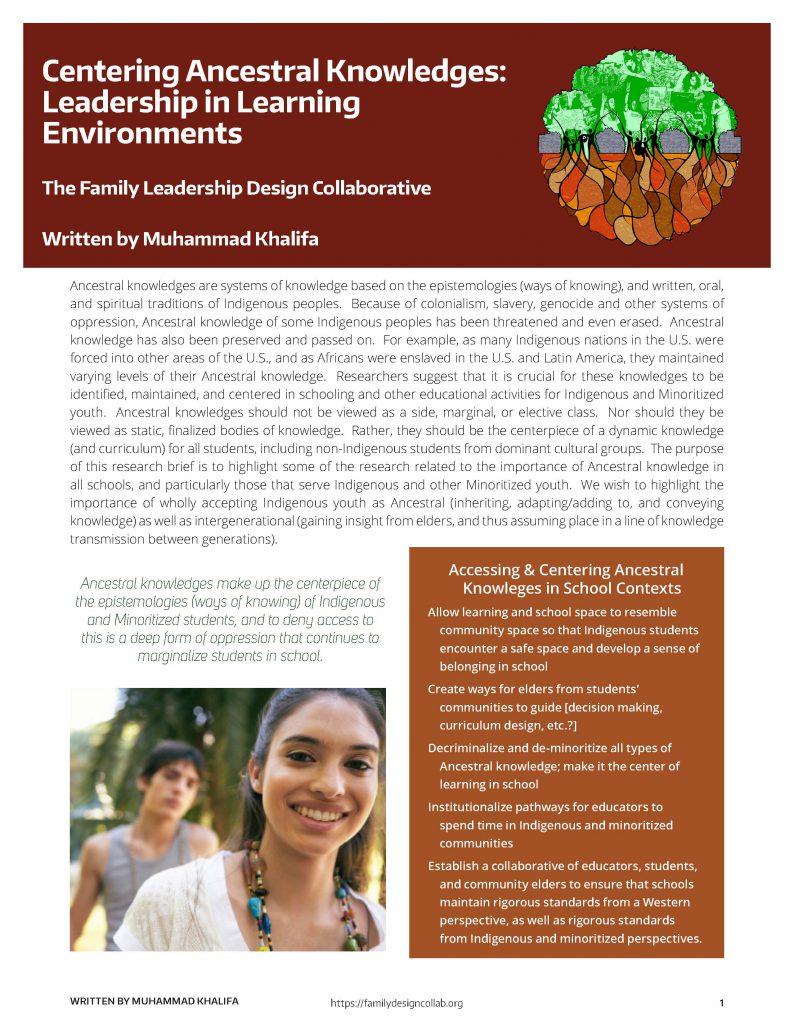 Centering Ancestral Knowledges: Leadership in Learning Environments
This research brief, written by Muhammad Khalifa, synthesizes key research around Ancestral Knowledges and how educational leaders can integrate and center these powerful knowledges in daily learning.
---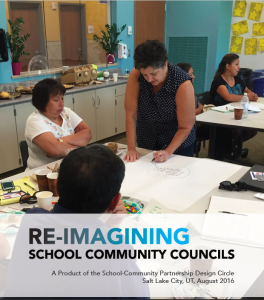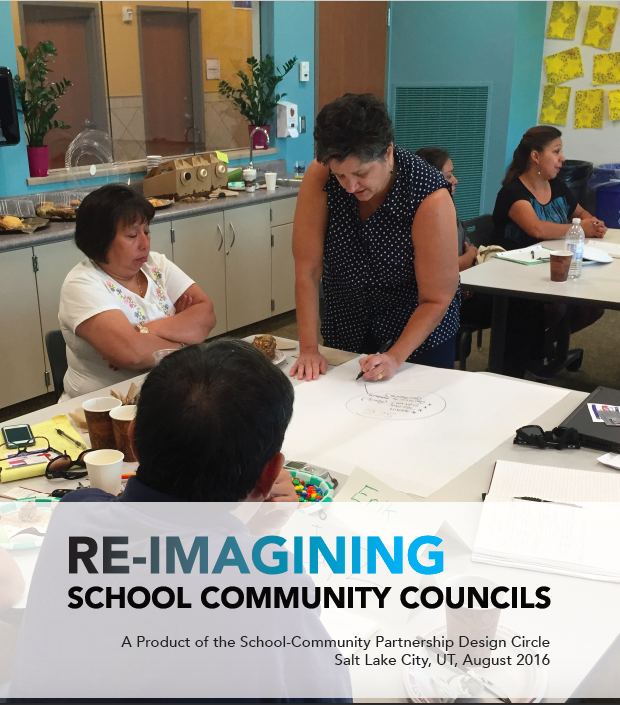 Re-imagining School Community Councils
This practice brief features key practices for building collaborative and authentic decision-making with families through school community councils. This report was produced by the Salt Lake City design team (Gerardo López, Paul Kuttner, & Alma Yanagui).
---
---
Reports & Publications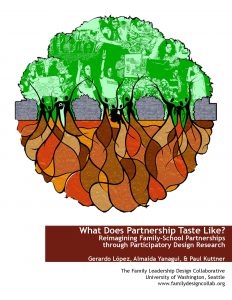 What Do Partnerships Taste Like? : Reimagining Family-School Partnerships through Participatory Design Research
This report from the Salt Lake City, UT design team (Gerardo López, Paul Kuttner, & Alma Yanagui) outlines their co-design process with families, educators, administrators, policy makers, and research in West Salt Lake City.
---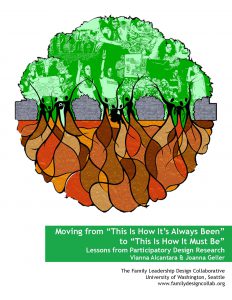 Moving from "This is How It's Always Been" to "This is How it Must Be" Lessons from Participatory Design Research
This report from the Central Falls, RI design team (Vianna Alcantara & Joanna Gellar) details the power, promise, and tensions of PDR as a method for designing with families and communities.
---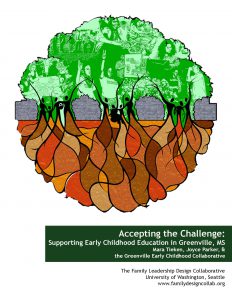 Accepting the Challenge: Supporting Early Childhood Education in Greenville, MS
This report from the Greenville, MS design team (Joyce Parker, Mara Tieken, & Greenville Early Childhood Collaborative) details the design process of bringing together directors and educators from private, state, and federal early childhood centers to collaboratively envision justice for young children and family in their community.
---
---
Coming Soon
Design Circle Practice Brief: River of Life; Chicago, IL Design Team
Design Circle Practice Brief: Circling to Move Ahead; Southeast Seattle, WA Design Team
Research Brief: Transforming Early Education Leaders Competencies by Incorporating Culturally Responsive, Anti-Bias Leadership Approaches; Iheoma Iruka